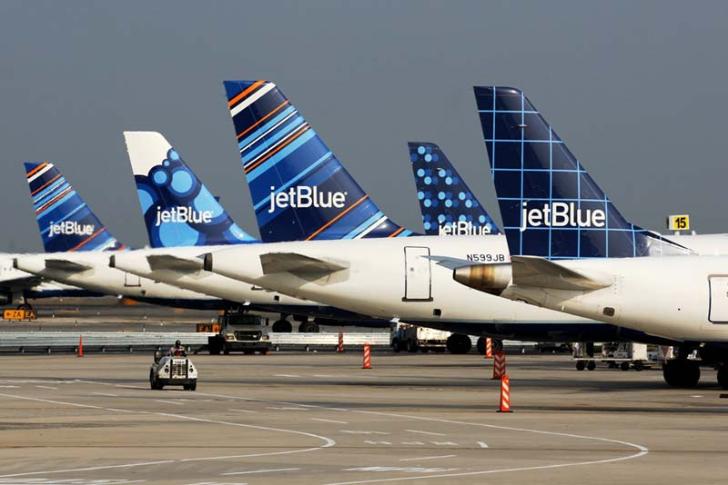 photo from InsiderTravelReport
I stared incredulously at the headline —
JetBlue launches program to treat customers like people.
That's what it really said. If you don't believe me,
look here
. But to turn the question around, how do the airlines treat us, their customers?
What do you call it when the airlines...
... squeeze economy passengers into tightly packed planes, six seats across a narrowbody plane with as little as 28" between the back of your seat and the seat in front of you. (I'm talking about you, Spirit and Frontier).
... institute a culture of fees: fees to check a bag, fees to use the overhead bin, fees to print boarding passes at the airport, fees to change or cancel flights. (Kudos to Southwest who actually treats us well in this regard).
... withhold accurate and up-to-date flight information? Ever been at the gate with "on time" still showing on the monitor even though it's past time for the scheduled departure. Have you ever waited hours for a delayed flight without being kept fully informed of the reason for the delay?
... delay boarding, then tell customers to "hurry up and get out of the aisles" so we can still have an on-time departure?
... sock us with fuel surcharges when oil is costly, yet keep the same surcharges even when the price of fuel goes back to normal? (I'm talking about you, British Airways).
... tempt us with points that "never expire," then expire the points — and devalue them to the point of near uselessness.
We, the flying public, are not blameless
in this deterioration of service. Why do I say this? Because most people shop blindly. They click the lowest price, even if it means they've booked a trip with two connections just to save $5.
Once upon a time, American Airlines
instituted a program called "More Room in Coach." They removed two rows from each plane in their fleet and used the space to provide more room for passengers, making possible a seat pitch of 34" or more. Had the public given its business to American in a major way, then all the other carriers would have upgraded their cabins as well.
Once upon a time, Midwest Express
had 2x2 seating and quite good hot meals on all its flights — first class space at coach prices. Had the public given its business to Midwest Express, the rest of the industry would have followed that model.
The airlines will not treat us like people
until we insist they do, until we insist on comfort in the air and courtesy at all times. How to do that? For starters, reward the airlines with the biggest minimum seat pitch: Jet Blue, Virgin America, Alaska, and Southwest.
copyright (c) 2017 by Ourisman Travel LLC. All rights reserved. We provide Virtuoso and other Preferred Partner amenities as an affiliate of Brownell, a Virtuoso® Member. If you have comments on this column, or questions about booking travel, email me or visit my website.